Reynolds Touts Legislation, Rankings At Soapbox Speech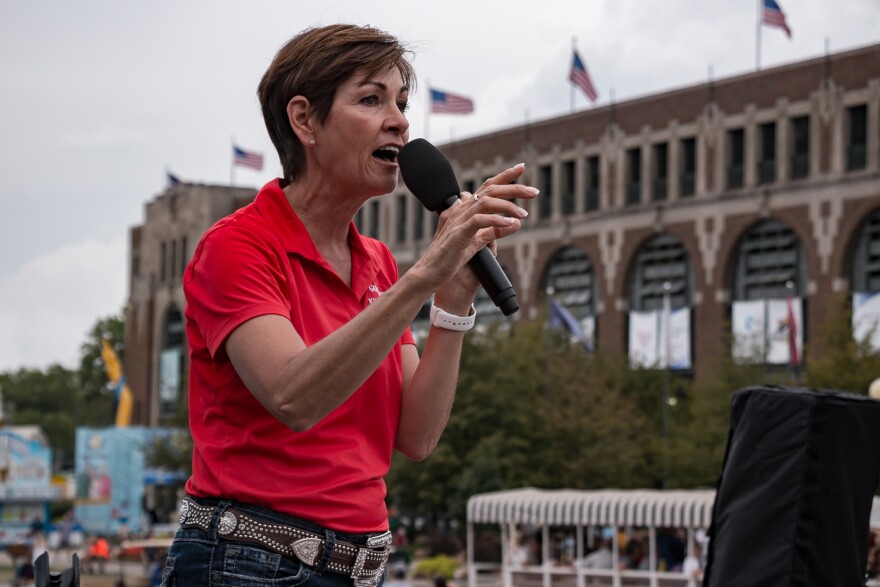 Republican Governor Kim Reynolds took to the Des Moines Register Political Soapbox at the state fair Tuesday and touted her new legislation and positive state rankings as part of her campaign to remain governor of Iowa.
She told supporters and fair-goers she is proud of signing tax code changes, mental health reform, and job training bills into law.
"We have a lot of positive things happening in Iowa," Reynolds said. "And I know the other side wants to think everything's doom and gloom and Iowa's going to hell in a handbasket and I'm sorry, it is not."
Reynolds said Iowa is ranked the "number one state for middle-class families" and for high school graduation rates, and she said the state's unemployment rate is among the lowest in the country.
"These are really really positive things," Reynolds said. "And I've got something to tell you: we're just getting started."
She said her opponent, Democrat Fred Hubbell, doesn't agree with the U.S News & World Report that ranked Iowa as the "number one state in the country."
"That was a recognition of our people," Reynolds said. "It was a recognition of our work ethic and our values, and people just like every one of you making a difference in communities all across this state."
Hubbell gave a speech from the soapbox Saturday. He said Reynolds and the Republican-led legislature are "virtually running the state into the ground."