Deere Improvement Project Scores National Award
A project by Deere and Company employees in Waterloo is receiving national recognition for its ability to improve safety, quality and efficiency.
Just off the main production floor at the John Deere Waterloo Works, stands an 8-foot-tall whiteboard on wheels. It's covered in red, yellow and purple sticky notes.
Factory manager Dave Davis explained the board is part of a process called "Continuous Improvement."
"The whole focus is to give the workers a voice in what goes on in their work spaces so they can contribute ideas on how to improve the safety, the quality, and the productivity of their work areas, they can help with material flow," he said. "And after they submitted their ideas through a tag, it goes on a board, the engineer supervisors work with the operator to come up with a solution to the problem."
The idea was initiated 20 years ago and, according to UAW representative Mike Weber, is a perfect partnership between company managers and the workers.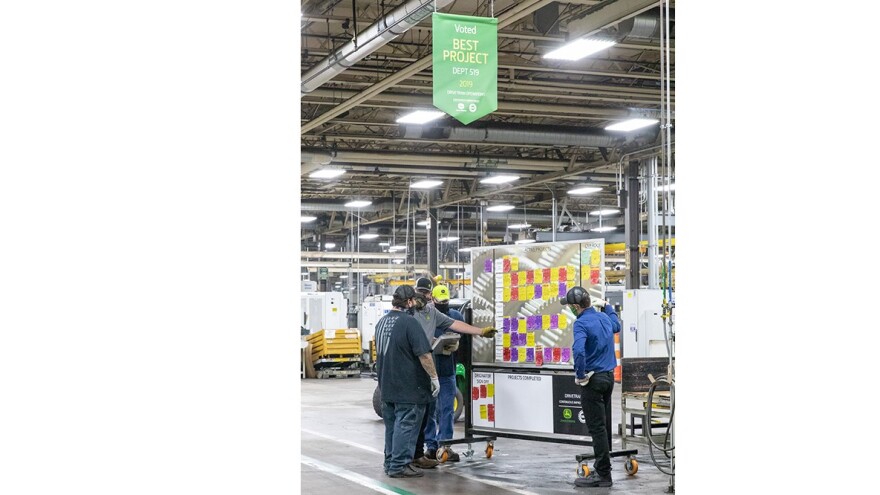 "If it's a project that the solution wasn't necessarily driven through the tag owner and someone came up a solution and presented it and it didn't work or it wasn't what the tag originator asked for then it does not get closed out until it's completed" said Weber. "So from the UAW side, from the wage side, that's our failsafe to the idea that's generated so it actually works for the operator."
John Deere employs more than 5,000 workers in the Cedar Valley and the CI boards are in all the factory locations. Manufacturing engineer Kale Larson said more than 3,300 projects of all sizes were completed in 2019.
"They can be as little as they want an anti-fatigue mat where they're doing all their part inspections, a very simple project, but something that affects them day in and day out when they're on their feet all day long checking these parts," he said. "And then on the other end you have a large project that may cost $50 to $100 thousand and take more than a year to implement."
Larson was involved one of those large projects where operators experimented with several concepts to eliminate the of use acid to smooth out equipment transmission shafts. The winning result transformed the part from rough and rusty to shiny, smooth and silver. And the innovative concept caught the attention of the national industry magazine Fast Company
"So it's had a pretty significant cost impact, also a huge safety and environmental impact, we're not using acid which is obviously a dangerous chemical, so the employees are no longer exposed to that," he said. "They have about 50 percent less material handling now by removing an operation, the quality of our parts is not impacted at all, we're still sending the best quality part that we can to the customers. You can be sure they are going to be free of deep burs and free of defects and so I think that's why Fast Company saw that we took a step forward in innovation and are doing something that others aren't doing currently."
As an engineer Larson endorsed the concept of Continuous Improvement for those who tend to think analytically.
"It could be the middle of the night, you wake up and you think 'yeah, that's a good idea, I should write that down,' I mean we could be driving down the road on our way home from work or you could be sitting at a basketball game with your kids or whatever and something just pops in your mind whether it's a project or a new solution that comes to mind a lot of times," Larson said.
Fast Company magazine has named John Deere one of its "Best Workplaces for Innovators for 2020". A ceremony and a celebration is tentatively set for next year due to COVID-19 restrictions.