Governor Implies It's Sexist to Criticize Reynolds Transition Fund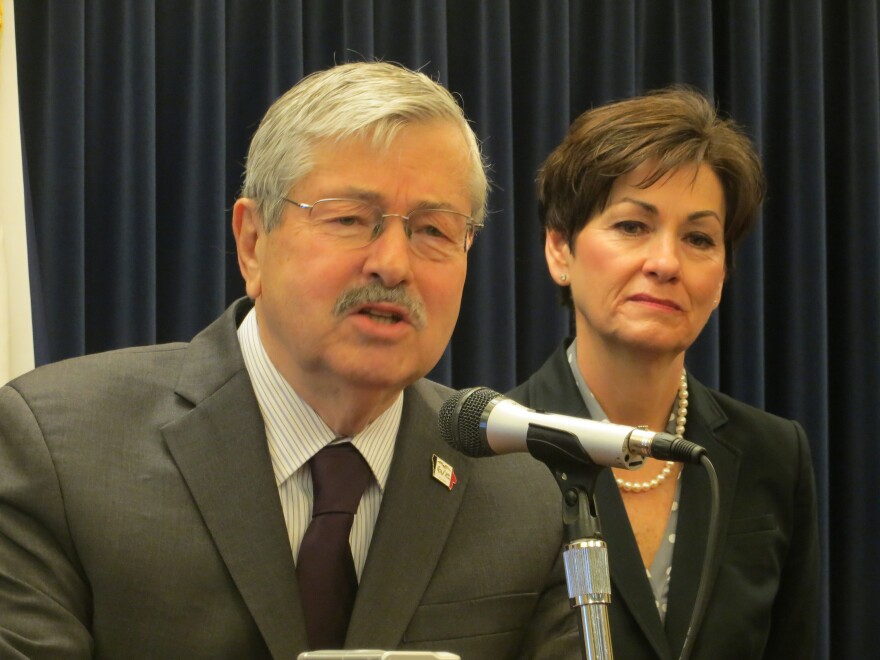 In a heated exchange with reporters, Governor Branstad today defended GOP lawmakers for approving $150,000 in transition expenses for Lt. Governor Kim Reynolds as she assumes the governorship.
Democrats called the appropriation extravagant in a year when budgets are being cut across state government.
But Branstad compared the fund to past transition appropriations.
"The same Democrats when they controlled everything, gave $170,000 for [Gov. Chet] Culver's transition," Branstad said.
Those liberal Democrats have nothing to talk about here. -Gov. Branstad
His voice rising higher, Branstad implied that sexism was involved.
"Those liberal Democrats have nothing to talk about here," Branstad said. "They would criticize a Republican woman but they would give $170,000 to a Democrat male."
When Democrats were in charge in 2008 they approved the $170,000 transition fund without knowing whether a Democrat or Republican would be taking office.
Similarly, Branstad approved $25,000 for his replacement in 2000 before the election of Democrat Tom Vilsack.
Democrats argue the transition of a lieutenant governor into the governorship without an election should cost less than a traditional transition.
"It's extravagant and unnecessary to move the lieutenant governor from one room of the capitol to the other," said Sen. Tod Bowman (D-Maquoketa).
Branstad said it will cost money to pay out vacation time for departing employees and to hire new staff for Reynolds.
"I just don't like this partisanship," Branstad said.
In the closing hours of the session, Rep. Pat Grassley (R-New Hartford) also saw sexism in the Democrats' complaint.
"Now we have the first lieutenant governor who'll be becoming governor in the state of Iowa and it looks like the minority party does not feel she should be afforded the same right that other transitions have been under male governors," Grassley said.
It's unclear when the transition may happen. Branstad will be in Washington again this week for meetings concerning his nomination to be U.S. Ambassador to China.
The governor has 30 days to sign or veto bills passed by the legislature. Branstad indicated he's likely to remain in office during most or all of that time.