Sioux City law enforcement encourages parents to monitor students' social media after threats to schools
Woodbury County law enforcement officers and school officials are asking parents to monitor their children's social media use after a string of violent threats to schools in Sioux City last Friday.
Nine students were arrested last week for threatening their schools over social media. One additional student was referred to the county attorney for charges. The Sioux City police department said none of the threats were legitimate and the posts were meant to cause alarm at schools throughout the district.
At a press conference on Monday, Woodbury County Sheriff Chad Sheehan said the police will be investigating all students involved. He said law enforcement is working to ensure schools remain a safe place for children.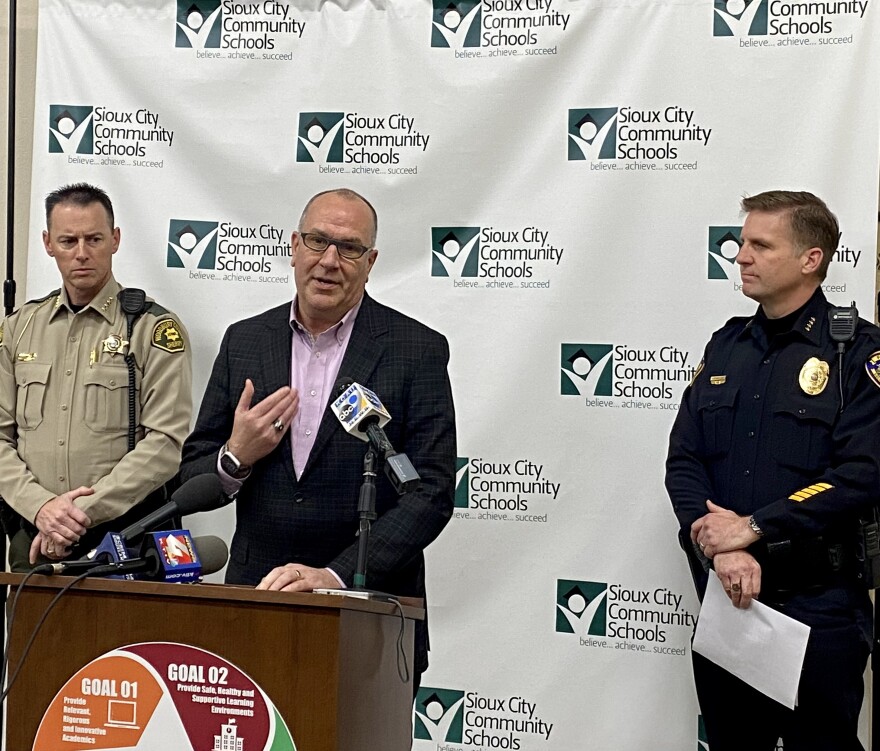 "This is not a joke. It's not funny, whether it's on TikTok or Snapchat or whatever it is. This is very serious. It will be taken very seriously and you will be held accountable. No questions about it, to the fullest extent of the law," Sheehan said.
Some of the students threatened to bring a gun into a school, while others posted videos of themselves pretending to shoot their building. The threats to the school districts followed viral Tik Tok posts that encouraged school violence across the country on Dec. 17th.
Sioux City Community School District Superintendent Paul Gausman said the posts caused significant disruption last week. He estimated that 20 percent of students were absent from school last Friday.
He said the school district needs parents' help in order to prevent negativity and threats from occurring on social media.
"Our parents do have some authority that they could exercise with their students about what social media apps they use, and about the things that are there," Gausman said. "...So I appeal to the parents and to our students to continue to inform us and to really be reflective about the accountability that's there on those social media platforms."
"It will be taken very seriously and you will be held accountable. No questions about it, to the fullest extent of the law."

Chad Sheehan, Woodbury County sheriff
County attorney P.J. Jennings said students will likely face charges of harassment of the schools. He said they may consider holding parents accountable for their kids' actions, depending on what investigations find.
"Parents are not going to be able to hide behind 'what I didn't want to do', or 'what I don't know about,'" Jennings said. "Because what we're going to be looking at is 'Was it reasonable for that parent, not to have done those types of things?'"
Involved students will face punishment from schools as well, school officials said. While school officials may address the impact of social media in social skills classes, Gausman said the conversations need to continue in the homes of the students.
But both law enforcement and school officials urged parents to play a more active role in monitoring their children's use of social media platforms, especially Snapchat and Tik Tok.
"I encourage you to have conversations with your kids, make sure that they know what is acceptable to you, their parent, and discuss what may or may not be acceptable in the school and what is acceptable in the law," Sheehan said.