State analysis of 2020's derecho response highlights communications breakdowns, coordination issues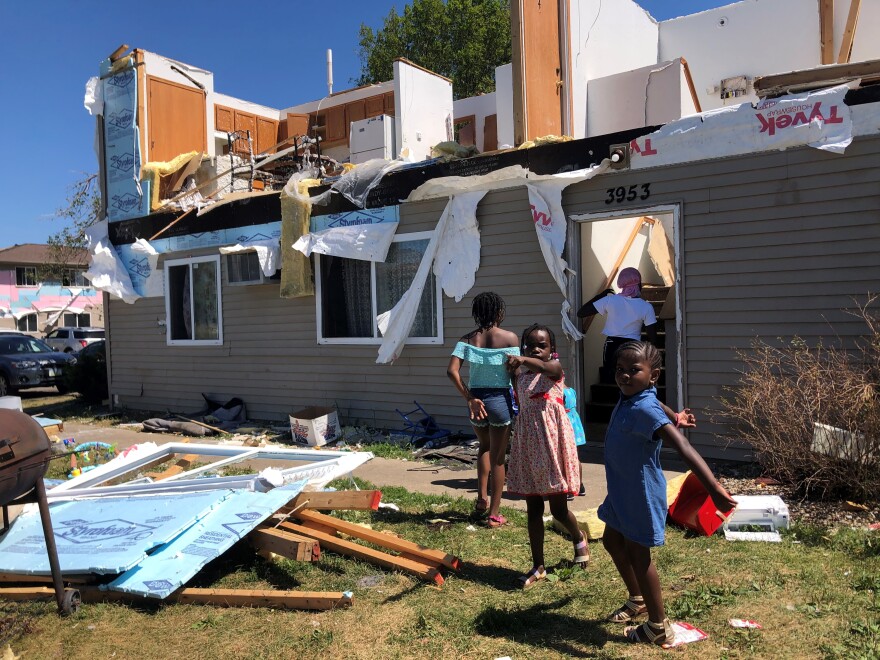 Local and state emergency managers need more ways to share information and stay in contact during widespread and long-term power outages. That's one of the findings in a review about the 2020 derecho, commissioned by the Iowa Department of Homeland Security and Emergency Management.
Many of the challenges of the derecho were abundantly obvious during the immediate aftermath of the devastating storm: powerful winds had destroyed homes, hamstrung telecommunications and left entire cities in the dark.
With an estimated $7.5 billion worth of damages in Iowa, some 8,000 homes severely damaged or destroyed and more than 585,000 residents affected by power outages that lasted for days or weeks, many Iowans had never seen anything like the Aug. 10 derecho.
The state report released this week underscores that the derecho was unprecedented, but local and state officials struggled with fundamentals: many residents say they had no notice of the storm or its severity; some local officials didn't understand the process of properly requesting state aid; state officials didn't have the right contact information for partner organizations; and inconsistent support from go-to groups like the Red Cross forced officials to come up with new solutions to provide emergency shelter and food services.
According to the analysis, more training and education is needed to brief local emergency managers and officials, some of whom are part-time, on proper procedures, roles, responsibilities and expectations.
"Resource requests were made to the SEOC and straight to the governor from personnel outside of the county EMA offices. Concerns that political pressures caused the standardized resource request process to be circumvented at the local level made it difficult to manage resources," the report reads.
In the aftermath, many Iowans said they had never heard the term derecho before and didn't know this kind of storm was even possible. In the days after the derecho, Linn County Emergency Management Director Steve O'Konek told IPR he "didn't know there was such a thing."
"Many interviewees stated that they were unaware of the severity of the incoming storm, leaving citizens across multiple counties unaware of the hurricane-force sustained winds, and the increasing storm impacts to communities in its path," the report reads. "Following the storm, the long-term power outages and cellular disruptions created increasing concern surrounding citizen safety and needs that were possibly not being met due to the inability to communicate."
A key focus of the IDHSEM report is the communications breakdown: massive phone and internet outages led to strained resources, duplicated efforts, and a lack of support for vulnerable populations like immigrants and refugees.
"There was not a backup process for communication and coordination for long-term power and cellular outages. For the 14 days following the storm, communication capabilities throughout the state varied, and in some areas, there was consistent conflict of information," the report reads.
Examples of communication failures include accounts of semi-trucks full of ice arriving in local communities unprompted and Department of Transportation workers arriving at dump sites only to discover they been given inaccurate operating hours.
One year ago today, Iowa was hit by a derecho, comparable to a Category 4 hurricane.

Despite warnings from the National Weather Service and others, for many Iowans the storm came with almost no notice.

A year later, I asked Iowans to recount that day:https://t.co/v4gcVYJUej

— Kate Payne (@hellokatepayne) August 10, 2021
The report specifically notes a lack of coordination and engagement with refugee and immigrant communities, who often face numerous linguistic and cultural barriers to accessing needed services. Scores of immigrant families in particularly hard-hit apartment complexes in Cedar Rapids were left sleeping in the rubble of them homes for days, waiting for coordinated relief efforts.
"There is a lack of coordinated effort surrounding the planning process and additional need to look at culture and linguistic needs. High-level community profiles for vulnerable populations, including the refugee and immigrant populations during disasters, should be considered when developing a plan," the report reads.
The report also notes that communities faced a number of challenges in dealing with the Red Cross, a primary provider of disaster relief services across the country. According to the review, relationships between local and state officials and the Red Cross were "strained." Information from the organization was "limited and inconsistent" and the group was "unable to coordinate sheltering and feeding services within the first five days," forcing officials to form a task force to improvise new solutions.
The report outlines a slate of areas for improvement. The review's findings are similar to those in reports done for Cedar Rapids and Linn County.