How George Floyd's Murder Inspired Activism In Another Racial Group
Chris Lo fiddled with the microphone for a second before speaking in front of a crowd of people in downtown Des Moines on an April Sunday.
His voice grew in volume as a man behind him adjusted the speakers. He wore a plaid shirt and dark sunglasses.
"Well thank you very much for coming out. This is, for me I know personally this is a pretty monumental moment, you know. A lot of us have stayed quiet for quite some time and if I get a little emotional today, there's good reason for it," Lo said, walking back and forth.
He was about to start a demonstration to stop racial discrimination and injustice. Although Black Lives Matter has been in the news for the past year since the killing of George Floyd, this demonstration wasn't for Black people. It was for another racial minority: Asian Americans and Pacific Islanders (AAPI).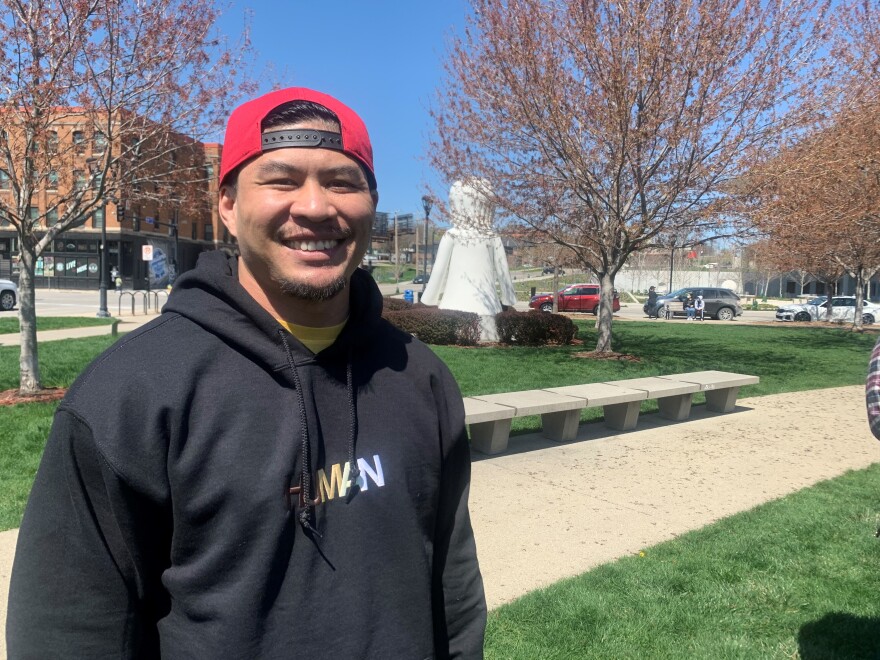 Matthew Manyvong organized that first Stop Asian Hate event after six women of Asian descent were shot and killed in Atlanta. He said he had some goals in mind he wanted to accomplish: "Raise awareness, also to not be silent, to know that we have a voice as Asians to come together, to be able to stand together and unite as a community. To fight for what's not right."
If that sounds familiar to some rallies for Black Lives Matter, that's because it is.
For Jade Ngoc Cao, the two are even more related. She said she started her activism on social media right after Floyd's murder. Asian hate incidents related to COVID-19 backlash were already happening around the country but she said that wasn't as well known around Iowa yet.
A Pew Research Center survey reported during the middle of the COVID-19 pandemic, last July, about 31 percent of Asian adults said they had been the subject of racial slurs or jokes.
"So most of us [were] kind of brushed under the rug, and then everything that happened with George Floyd, the BLM community happened. And I think that definitely encouraged community participation from allies of the BLM movement," the 27-year-old said.
Cao was born in Vietnam and came to Iowa when she was 2 years old. She said she sees herself as an ally to the BLM movement. And, after working for the betterment of Black lives in Iowa, she realized she could do the same thing for Asians.
"And having to see what they went through just being able to rally and being able to demonstrate peacefully, to be able to have changes within the police department definitely motivated me to do the same for my own community," Cao said.
Even though, she said, this scares her mother, who always taught her to never break any rules and to stay quiet.
Being outspoken against injustice is still something new for some people in the Asian community, especially immigrants. Lo, the man who spoke at the Stop Asian Hate event, said he was always taught to stay quiet. His parents emigrated as refugees from Southeast Asia in the 1970s.
"Growing up, my dad was always like, 'Yeah, always work hard, keep your head down.' But then also the other part of that he's all like, 'Hey, keep your head down and work, but don't make anybody mad. You know, don't piss anybody off, though,' Lo explained. "He would actually say to me, he's like, 'Don't make the white man mad.'"
Lo, now 33 and a videographer/photographer, now does the opposite of what his father had initially advised him to do. His job allows him to travel and see injustices against AAPI people all over, which inspired him to take a stand.
He said the moment he realized it was time to do something was after his father called him to ask about what type of gun to buy for protection.
"It's not necessarily about me, personally, it's about protecting my own and protecting my family and protecting my Asian brothers and sisters," Lo said. "Because some of them don't have the capacity to. And honestly, this is not meant to be a movement where we're like, trying to disrupt the system. It's more of, we want to educate people [about] what's actually going on."
Lo took a second to think.
"I wish people would love me as much as they love my culture or my food or, you know, the things that are attributes about me," he added. "I think that just in general Black Lives Matter has made an impact for the just the minority community in general."
And that lesson, of keeping his head down and staying quiet, is a way to survive, according to Ashley Cheyemi McNeil. The postdoctoral fellow at the Obermann Center for Advanced Studies at the University of Iowa is also the co-chair for the university's Pan Asian Council. She's currently working on the Humanities for the Public Good grant initiative.
"There are many ways that we are explicitly and implicitly taught to survive," she said. "And so sometimes that is through assimilation, sometimes that is through acculturation and other forms of socialization. Sometimes that is by rejecting your too Asian sounding of a name."
And she said that is silencing their identity. Her grandparents were actually held in U.S. internment camps during World War II. Her biological father was born in that internment camp in Heart Mountain, Wyoming.
But that idea of silently surviving, like her grandparents, may be slowly changing after the BLM movement sparked some societal response. More people are reporting.
"From March 2020 to February 2021. We received over 3800 reports in 49 weeks after the Atlanta shootings, we received 1000 more, and this is only the tip of the iceberg," Eunice Kim said. She serves as a program manager at Stop AAPI Hate, a national advocacy organization that tracks and responds to hate and discriminatory incidents against the Asian community.
Kim spoke at the "In Solidarity With Asians And Pacific Islanders In America," webinar hosted by the University of Iowa.
Cynthia Chou, the incumbent director for the university's Center for Asian and Pacific Studies, helped organize the free webinar.
"I think we all have a sense of empathy, a great sense of empathy as to what's happening. But we also understand that shared humanity. You know, it touches upon anyone who gets hurt in the community, right? It's an issue for everyone to empathize [with] and address," Chou said.
AAPI Hate reported in the month of March 2021, the number of hate and/or discrimination/harassment incidents increased from 3,795 to 6,603. Most incidents occurred in a business or public setting. Those reported incidents included ones that took place in 2020.
Many in the AAPI community said this increase accounts for two trends: an increase in incidents, but also an increase in those comfortable enough to report. They surmised that could be due to more accessible reporting systems, more national dialogue, or a combination of both.
Weeks ago, President Joe Biden signed the COVID-19 Hate Crimes Act into law, which focuses on the increase of incidents against the AAPI community. Part of the law ensures reporting tools are more accessible for all people, regardless of language.
McNeil said the BLM movement could have played a part in the increased reports.
"It has all swelled together and goes hand in hand in that reflective kind of energy and understanding of, 'Oh, this is working for you, let's do it over here too.' And adapt, right? And recycle strategically. And I think that that is actually community organizing at its best," McNeil said.
Although the pathway of inspiring change may be similar between the Asian community and the Black community, they have different agendas to pursue. Each one is specific to the challenges they experience, McNeil said. But each one is striving for civil justice.