Des Moines Juneteenth Celebration Meant To Inspire Institutional Change
The Sherman Hill Neighborhood Association approached Dannie Patrick with an idea. They wanted to plan a Juneteenth celebration on Saturday, June 19.
As far as the organizers know, this is the first time a Des Moines neighborhood is collaborating to host an official Juneteenth event. Patrick said this year was a significant one for the holiday that commemorates the end of Black enslavement.
"With everything that happened in 2020, specifically with George Floyd, it definitely made an impact on how people perceive the communities around them, and really the responsibility for us to be involved," Patrick explained.
She is hoping this event will spark institutional change. She explained change doesn't start at the lawmaking level, rather at the human level. Patrick said she wantsJuneteenth celebrationsto prompt accountability within communities.
"It really is not about laws that change things for people. It's about people. People reaching out and saying, 'Hey, I'm here for you,'" Patrick said.
The 31-year-old is using a lot of her professional job experience as a base for the weekend celebration. Patrick works for Great Western Bank as a talent and acquisition consultant. In other words, within the diversity and inclusion sector.
She helped arrange for Black businesses, artists and service providers to present and be featured at the neighborhood celebration. Historic Sherman Hill is the oldest neighborhood in Des Moines.
Local Black artists will display works of chalk art that express what Juneteenth means to them. Patrick added they will all be compensated, as that is especially important for a holiday that commemorates the end of free Black labor. Great Western Bank is sponsoring the artists.
"In the past, we haven't really had a lot of involvement from the neighborhood association with that, or in general for Juneteenth. So it's just cool to see some awareness and get involvement from the neighborhood association," Patrick said. "It's definitely kind of snowballed into a bigger thing than I think we thought initially."
The event will also feature Black botanists who have contributed in the past to Des Moines' natural beauty as well as a DJ to provide music.
Ingersoll Square apartments, where Patrick lives, is sponsoring the other portions of the celebration. A Black-owned food truck will be operating from its parking lot.
Brooke Mettille, the Ingersoll Square property manager, said the complex really wanted to get involved with the surrounding community. They are the first apartment complex, to Mettille's knowledge, to do something like this in the area.
"Honestly, I think it's important to just take a stand for what you believe in. And I know a lot of apartments, they don't really want to get involved in politics or anything like that," Metille said. "But at the same time, this is so much more than that. It's about kind of setting a precedent for the community."
Metille and Patrick both said they are interested in making this an annual event. They're using this year to work out any problems that may arise. Patrick said in coming years, she wants to work with the many other organizations that host Juneteenth events.
"I just really hope that people rally around this," Mettille added.
Juneteenth Duality
Patrick described Juneteenth as a double-edged sword. On one hand, it celebrates slave emancipation. On the other, its establishment was late and it still lacks the recognition it needs. President Abraham Lincoln actually issued the Emancipation Proclamation on Sept. 22, 1862.It wasn't until 1865 that the basis for Juneteenth was established.
"It's heavy because it's two years after the Emancipation Proclamation even happened. It is someone having to go out of their way to say, 'Hey, you have rights,'" Patrick said. "And while, yes, that's great, it's hard to digest that a law didn't change that."
President Joe Biden signed a bill to make Juneteenth an official federal holiday today.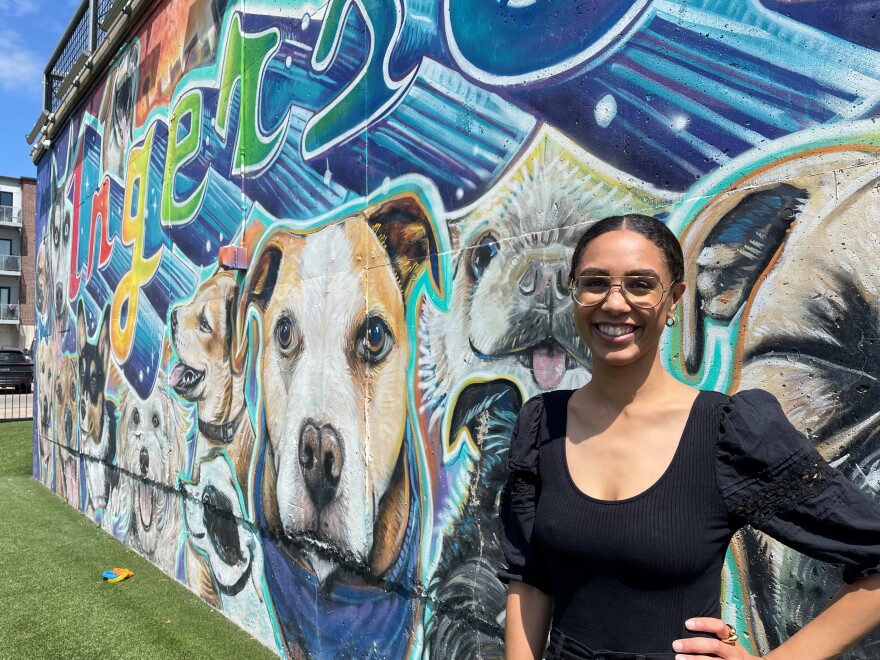 Before moving to Iowa from Kansas City, Patrick said she didn't even know about the holiday. Her father is Black and her mother is Puerto Rican. So that means an extra sense of duality for her.
"It's made us more aware that we may not have the same needs across the board. And sometimes we do, but either way, you're better able to support someone when you get outside of your box and talk to them and have a conversation and really know where they're coming from," Patrick said of her multiracial/ethnic background.
She admitted coming from two marginalized backgrounds has made some aspects of her life challenging, but community-led celebrations like the one she is planning will help others who are like her. It will encourage people to reach across the aisle and get to know each other.
"And I think at the end of the day, doing things like this, it humanizes all people across the board," Patrick said.
The Juneteenth event with the Sherman Hill Neighborhood Association and Ingersoll Square apartment complex, along with others, will take place Saturday, June 19 from 1 p.m. to 6 p.m.