Iowa's Asian American Community Raises Awareness Of Increased Violence
Organizers and supporters of Iowa's Asian American community gathered at the Papajohn Sculpture Park in downtown Des Moines Sunday to stand against and raise awareness about the increased instances of Asian violence across the country.
Matthew Manyvong, one of the organizers, said he decided to put it together on impulse after six women of Asian descent were killed in Atlanta two months ago.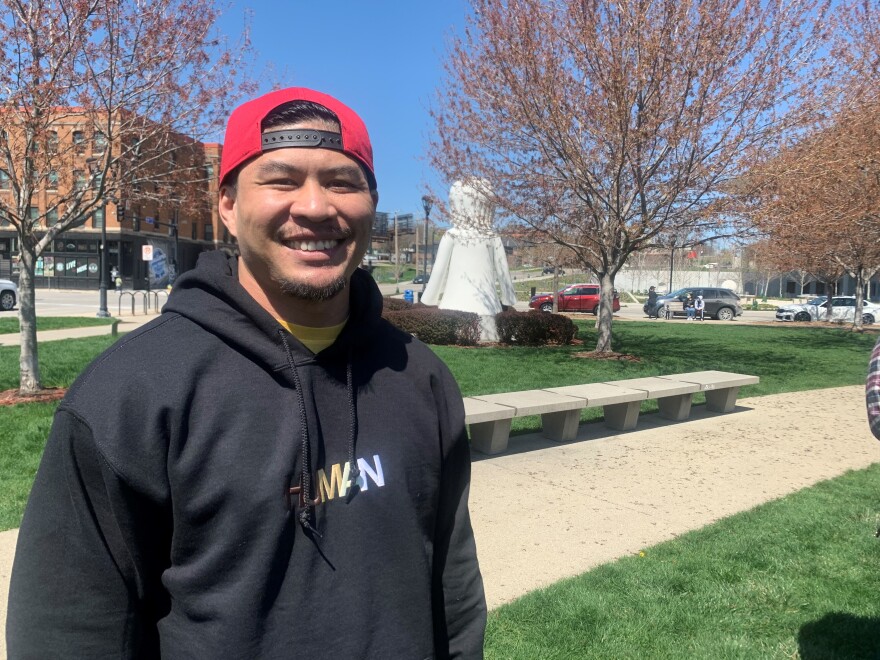 "I organized this event because it deep down inside, I have a feeling attached to what's going on around the nation," Matthew Manyvong said. "You know, it can happen anywhere. Why wait for something to happen here when we can prevent it from happening?"
Bonnie Manyvong watched her younger brother speak at the event. She said she's proud of him for taking the initiative to organize.
"Someone had to speak out. I mean, our culture is pretty much brought up where we were raised to be silent and quiet. Not to talk, not to speak, walk away from a situation even if it bothers you," Bonnie Manyvong said.
Matthew Manyvong, who served as a U.S. Marine, said hateful comments in the past angered him. It made him want to fight, but he realized that wasn't the way he wanted to make change.
"We have to educate. We have to talk together in communities to understand each others' differences and learn from each others' differences to grow as one and unite as one," he said.
Other speakers told stories of their own experiences of hate and discrimination in Iowa.
Tony Khuth hosts a podcast called "de facto." He is a first-generation refugee and is an advocate for those within the queer community.
"My friend was out shopping at Walmart and was punched in the face and told to go back to China," he said. "What we need to do as Asian Americans is not to speak up, but share our lived experiences with the world."
From 2019 to 2020, anti-Asian hate crimes in the U.S. increased more than 140 percent, from 49 to 122 incidents. Manyvong said he noticed that increase in his own life when COVID-19 really hit the United States.
The Stop AAPI Hate national report revealed in the past year, there were more than 3,700 Asian hate incidents in the country.
Jade Ngoc-Cao was at the event to help gather these stories with her camera.
"We want to make sure that other people know that we're out there, we're here. We're listening to you. And if you need anything from us, we will be there to support you in any way that we can," she said. "We're not staying silent anymore."
Matthew Manyvong added that's why there are more events like these to come.