'Did I Do Enough?': A Cedar Rapids Meteorologist Reflects On The Derecho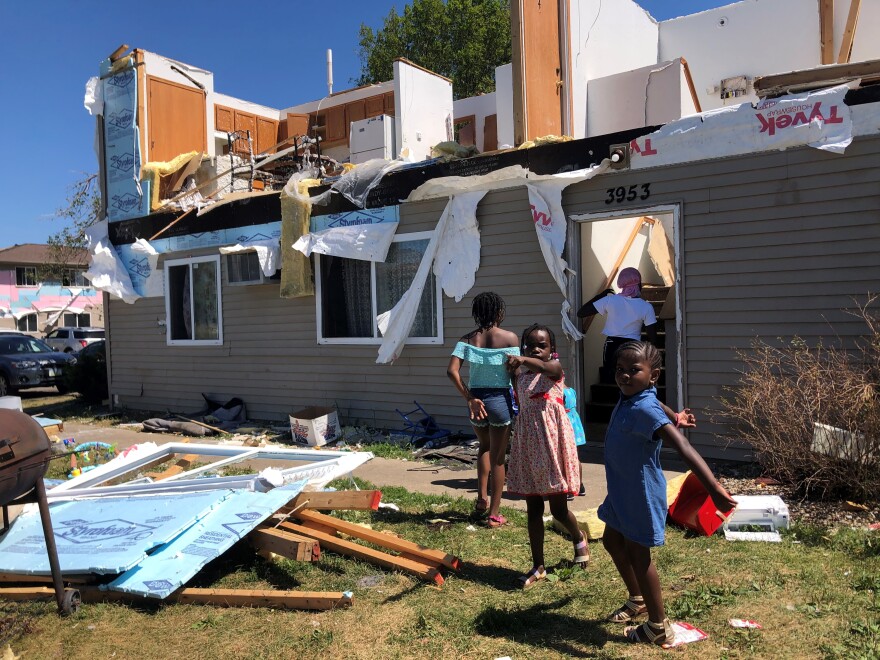 The powerful derecho that hit Iowa two weeks ago Monday has been called unique and unprecedented. The nature of these storms means they come with little notice and the scale and intensity of this system surprised even experienced meteorologists.
KGAN-TV meteorologist Rebecca Kopelman shared her experience with Iowa Public Radio of attempting to forecast the historic nature of the storm in real time, and seeing the National Weather Service warning systems fall short, leaving many Iowans with little notice that a storm was coming at all, let alone a storm packing winds comparable to a Category 4 Hurricane.
When the NWS Storm Prediction Center put out a severe thunderstorm watch on Monday morning labeled "Particularly Dangerous Situation" with a chance of 100 mile per hour winds, Kopelman said it felt "hard to believe."
"That's when we knew it was going to be bad. Did we know it was going to be catastrophic? Did we know it was going to be like this? I don't know that anyone could wrap their head around that," she said.
We continue to get more video of the #IowaDerecho... this is from Tim Michael near Marion where winds were estimated at 130 mph on August 10th.

This is why we keep referencing a hurricane. It looked and sounded like one. And the aftermath reminds me of one..#Iowa #iawx pic.twitter.com/3AQeobBS5Q

— Rebecca Kopelman (@KopelmanWX) August 21, 2020
Kopelman and her colleagues continued broadcasting live as the storm blasted into Cedar Rapids, and even had to leave the studio to take shelter in an interior hallway as the building began to shake and shudder.
"I said it multiple times: I said it looked like a hurricane outside," she said. "All I could really try to do was to tell people to take it seriously."
Despite her efforts to communicate the severe weather conditions to her audience, Kopelman acknowledges that many Iowans were caught off-guard by the storm, with their only warning the sirens that went off a few minutes before.
While Kopelman herself has signed up for severe weather emergency alerts to come to her phone, she notes it's not currently NWS policy to automatically send out cell phone alerts for severe thunderstorm emergencies, as the agency does for tornado and flood emergencies.
"I wish that system would've been implemented and we could see what the response would've been for people if they saw something different come across their phones, everybody's phones," she said.
Ray Wolf has DECADES of experience in meteorology. He says he's never heard of a derecho producing winds like it did in Cedar Rapids for over 30 minutes. We likely neared an hour of enduring winds of 90-130 mph. #Iowa #IowaDerecho https://t.co/aoYSVELPz3

— Rebecca Kopelman (@KopelmanWX) August 18, 2020
When she emerged from the studio later that day and began to survey the devastation in her community, Kopelman said she was wracked with doubt, wondering if the Weather Service and meteorologists could have done more to alert the public and save lives.
"You think as a meteorologist, did I do everything that I could?" Kopelman said, her voice filling with emotion. "I had some power. Did I do enough? Did I do enough?"
Kopelman has been in communication with the NWS about ways to better warn the public of future storms.