Get the latest news about the novel coronavirus from Iowa Public Radio and NPR News.
How Protesting Could Affect The Spread Of COVID-19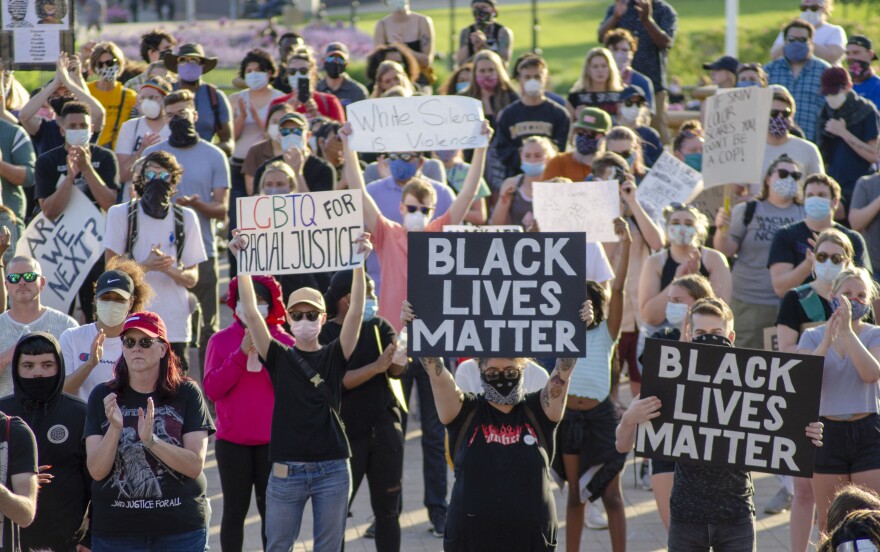 The death of Minneapolis man George Floyd at the hands of a police officer has sparked large protests across Iowa, sometimes attracting crowds numbering into the thousands.
But at the same time, public health experts are still recommending people practice social distancing to prevent the spread of COVID-19.
Experts say it's still unclear exactly what impact these protests will have on the spread of COVID-19.
"The impact takes weeks for that kind of thing to show up in our statistics," said Eli Perencevich, an epidemiologist at the University of Iowa. "Exponential spread can be kind of invisible for the first couple rounds of transmission."
He said where the protests are occurring is also an important factor in the risk of spread. He said counties with protests that only have a few cases or places like Johnson County that are seeing a drastic dip in the number of new confirmed cases will be less affected.
"If there's really only one person who hasn't been detected, they would have had to go to that, you know, specific protest and be around, so it may not have a big impact there," Perencevich said.
But he said, for example, a protest in Buena Vista County, which has seen a huge spike in cases tied to a Tyson food processing plant, "could really amplify an already horrible situation."
One thing Perencevich said that's beneficial is protests are taking place outdoors. Outbreak investigations have found that the virus best spreads in indoor enclosed spaces when people are together for longer periods, like 30 minutes or more, he said.
"We think there's less risk for transmission outside, particularly people are moving around. But a lot of the protests have been kind of large crowds standing in one place, and so it's possible that there could be some spread," he said.
Protesters need to remember that COVID-19 is still a public health threat, said Rachel Reimer, the chair of the Department of Public Health at Des Moines University.
"I think, you know, from the public health, sort of, worst nightmare perspective is that we're going to see a bunch of spikes in locations where we've had a lot of these protests," she said, "because coming together in close proximity and people screaming and yelling and sort of having a lot of that vocalization, I guess, is a known risk factor for for transmission of the virus."
But Reimer said there are ways for protesters to decrease the risk of spreading the virus.
"Going to events where the organizers have tried to delineate the physical space in some way is probably the best way to do it," she said, "and to limit your time there, so going and participating for a shorter amount of time will reduce your exposure."
Reimer said going to events where everyone is expected to wear a mask will also help decrease the spread.
Perencevich agreed that even though there's not a lot of data on the effectiveness of masks on COVID-19, outdoor events where everyone wears masks could mean there won't be any large health impacts from the protests.
"Certainly, you know, the large and even smaller droplets many of them will be blocked by these cotton masks, so it's definitely going to help," he said.
And he said those who are considered high risk for getting COVID-19 or are worried about spreading the virus should quarantine for 14 days from their last protest.