2015 Classical "Mega-Meta-List": Worldwide Best-CD Poll More Mega, More Diverse (Part 1)
Today's output of classical albums is (pardon me while I scribble on the back of an envelope) something like triple what it was a generation ago. I won't vouch for that exact ratio, but I will for Anne Midgette's description of how it feels: "Keeping up with the stream of new releases is like trying to drink from a fire hose." Now imagine trying to capture a hose's jet-spray in a bucket, and you'll see why making a classical "best-of-year" list in 2015 struck many writers as a thankless task, even a hopeless one. Yet that didn't stop more of us than ever from trying - perhaps enough of us to be called a crowd. Could that crowd, taken together, have some kind of collective wisdom?
That was more or less the premise behind my "Classical Mega-Meta-List" last year (inspired by economist /blogger Tyler Cowen). I tallied every "best of year" list I could find - a total of 36, comprising about 100 writers. This year I found far more: 67 lists, with at least 161 contributors, which makes this year's meta-list 86% more mega. It's not surprising that twice as many releases made the final cut, defined by being chosen for more than three best-of-year lists. Last year, 28 albums reached that threshold; this year, 56 albums did.
Last year I detailed the caveats; I'll summarize them briefly here. For starters, a true "wisdom of crowds" effect requires hundreds of people to each judge independently, but music critics all read the same major publications and often, one another's writing. Also, our time, money, and attention are so limited that we tend to notice what's local and to focus on our specialized musical niches, or on artists who can afford a publicist. Oh well! Combining 161 lists can at least help counter these limitations. I don't think a mega-meta-list could ever find all the gold - even 161 prospectors will miss equally brilliant releases. Nor do I claim that the albums chosen most are in fact better than albums chosen less or ignored. Still, a mega-meta-list might help us notice some great work that we might otherwise miss.
It might also eventually help us spot trends in the field, once we have a few years of meta-lists to compare. I only have two now, 2014 and 2015, not enough for calling anything a "trend," but some changes were obvious. One involves the glass ceilings that kept women out of the most powerful jobs in classical music, composing and conducting. Last year, the mega-meta-list included no woman composers at all; this year, three of the top albums focused on a woman composer (and several others included female composers in a mix). Last year, all of the conductors had Y chromosomes, but this year, four albums were conducted by women (in three cases from the violin, but not merely nominally). A year isn't enough to prove a trend, but it chimes with other evidence of the field opening up.
One more change from last year: the 2015 picks include works you might call "postmodern" that have now attained the status of "classics." Remarkably, some of these works inspired performers who are not new-music specialists. The top piano recording of the year mixed Bach and Beethoven with American maverick Frederick Rzewski, the top harpsichord recording mixed Bach with Steve Reich and Henryk Gorecki, and the top minimalist choral CD was sung by a Renaissance group, the Tallis Scholars.
I could go on, but ... let's open the envelope, please! Based on vote tallies, I've divided the winners into four levels - Blockbuster, Gold, Silver, and Bronze. There are so many that I'll publish the Bronze discs in a second post soon (along with the list of my sources - UPDATE: Done; here's the link.). Anyway, here are the top 28 choices:
BLOCKBUSTERS: Albums that received more than 12 votes each (in alphabetical order)

Back when classical music was supposed to be dead, jeremiads thundered that the major labels, having been acquired by conglomerates obsessed with quarterly returns, would never again risk money on serious classical projects. Even us optimists thought the future would be with small indie labels - and we were basically right, since indies do account for most of the final 50. Still, in 2015 the conglomerates gave us four of the five albums that made more than a dozen (12) best-of-year lists, and not one of these albums was a cheesy crossover project; all were artistically uncompromising. Still, the most encouraging news of all did involve a small indie label, Sono Luminos, which gave us a disc of a woman composer that made 14 best-of-year lists. Here are the five in alphabetical order.
Igor Levit, piano: Bach, Goldberg Variations; Beethoven, Diabelli Variations; Rzewski, The People United Will Never be Defeated (Sony 88875060962) - Two of the top five albums feature twenty-something Russian-born pianists playing variation sets - yet they could hardly be more different. Igor Levit, whose family moved to Germany when he was eight, focuses on leviathan variation sets by the greatest German composers, Bach and Beethoven - and adds an equally mammoth set by Frederick Rzewski based on a Chilean protest song, The People United Will Never be Defeated.Levit fell in love with it when he combed the music library as a student in Hannover, and he has recently commissioned a new work from the American composer. (Footnote: the pianist who recorded the premiere of the Rzewski in 1976, Ursula Oppens, issued a remake in 2015 which also made the mega-meta-list Bronze category - the only contemporary classic to make the list twice - see Part 2.)
Sergei Rachmaninoff: Variations - Daniil Trifonov, piano; Philadelphia Orchestra / Yannick Nézet-Séguin (Deutsche Grammophon 479 4970) - The other Russian-born pianist in the Top Five, Daniil Trifonov, is getting a doctorate in composition in Cleveland. To this recording of the complete variations by Rachmaninoff, he adds a composition of his own, Rachmaniana, making him one of several artists on the list who is breaking down the strict division between specializing in composing and specializing in performing. (That division didn't exist in Mozart's day, and Rachmaninoff was equally renowned in both spheres, as few artists were to be in the later 20th century.) As for the performing here, Trifonov is one of those magicians who can make the piano sound like it's coming from a transcendent sphere, but he is also a fluent musical thinker who conveys the play of Rachmaninoff's imagination. It's a great recording, and the Philadelphia Orchestra is an example of an American orchestral renaissance - about which, on to the third blockbuster:

Dmitri Shostakovich: Under Stalin's Shadow: Symphony no. 10, Passacaglia from Lady Macbeth of Mtsensk - Boston Symphony Orchestra / Andris Nelsons (Deutsche Grammophon 479 5059) - When classical music was thought to be on life support, premature obits mentioned that major American orchestras no longer had contracts with the top international labels. But not only do American orchestras outnumber European ones in this year's mega-meta-list, they also make the Top Five twice with recordings on the most major of labels, Deutsche Grammophon. The Boston Symphony Orchestra sounds as golden as it did back in the day, and this performance of Shostakovich's greatest symphony is for the ages.
Anna Thorvaldsdottir: In the Light of Air – International Contemporary Ensemble (ICE); Sono Luminus DSL-92192 - Iceland has been called the "per-capita capital of the world." It may surpass even Iowa City in writers per capita - it ranks first among nations in authors and musicians - so it's possible that it has the highest percentage of women composers. (See below in the "silver" category for an album with five of them). Among Icelandic composers, in 2015 Thorvaldsdottir became the first to win the Kravis Emerging Composer award of the New York Philharmonic and to gain international renown, including a solo album on Deutsche Grammophon, Aerial. But it was the album In the Light of Air, from the audiophile indie label Sono Luminus, that won over music writers around the world. The works featured are at once otherworldly and heartfelt. The title work was conceived for performance with a light show, so you might wonder how it connects purely as sound. The answer is: powerfully, and not just for me, but for 14 critics who made lists.

Giuseppe Verdi: Aida - Anja Harteros, soprano; Jonas Kaufmann, tenor; Ekaterina Semenchuk, mezzo; Ludovic Tézier, baritone; Erwin Schrott, bass; Orchestra and Chorus of the Accademia Nazionale di Santa Cecilia; Antonio Pappano, conductor (Warner Classics 0825646106639) A mega-conglomerate funding a studio recording of the grandest of operas with superstar singers and a great conductor - that's another type of project once thought to be kaput. Here we have the first studio recording of Aida in 15 years, with an all-star cast and conductor. The glorious singing and playing makes you hope there's more to come from this crew.
GOLD: Albums that received 8-10 votes (in alphabetical order)

Johann Sebastian Bach: The Cello Suites - David Watkin (Resonus 10147 ) In every year since 2009, about eight new recordings of these suites have come out annually, and that's just counting the ones played on cello (others have used guitar, lute, and marimba). I don't know of anyone who has listened carefully to all or most of them, and it's difficult for even the finest to get noticed. But the insight, depth, and humanity of David Watkin's set have made it an instant classic. The information available today about these works could fill many books - the various manuscript sources, understanding of Bach's compositional practices, the latest scholarship on performance practice and dance, the historical precedents, details about period instruments - and Watkin has mastered it all, and also has taken time to play the suites for great Bach interpreters like Gustav Leonhardt, Laurence Dreyfus and John Butt to get their feedback. Then he let all this knowledge marinate for decades before recording the works with a tiny Scottish indie label. His playing has profound humanity, yet he makes the result sound as natural as conversation.
William Lawes: The Royal Consorts - Phantasm Linn CKD470 (2SACD) The consort music of the early 17th century has been a specialty interest of mine, but I think this gloriously inventive, infectious music and playing would appeal to just about anyone - and, in fact, it did, to judge by how many best-of-2015 lists it made. The Scottish indie label Linn first got into the record business to showcase its high-end audiophile equipment. It can be counted on for warm, realistic, glowing sound and superb documentation, and delivers all of that handsomely.
Witold Lutoslawski: Piano Concerto; Symphony No.2 - Krystian Zimerman (piano), Berliner Philharmoniker/Simon Rattle (Deutsche Grammophon 4794518) The great Polish composer first considered a piano concerto in 1938, when he was himself a young virtuoso. What stopped him was World War II. Lutoslawski served in the Polish army, was captured and imprisoned by the Nazis, escaped from their camp, then played piano in Warsaw cafes. He got out of Poland in 1944, but when he did, lost almost all the music he had composed by then. So he didn't write his concerto until fifty years later, in 1988. He was inspired by a supreme musician of our era, the Polish pianist Krystian Zimerman, and he tailored the writing to Zimerman's unique style. Zimerman premiered it in 1988 with the composer conducting (it was Lutoslawski's first conducting date in Poland since the Communist takeover), and they recorded it together. But Zimerman has continued to perform it since then, and now felt ready to record it again. This is the triumphant result, coupled with Simon Rattle's brilliant live recording of the composer's Symphony no. 2.

Andrew Norman: Play; Try - Boston Modern Orchestra Project; Gil Rose, conductor (BMOP/sound 1040) What's the right word for this work, written by a young American for the Boston Modern Orchestra Project? IPR contributor Will Roseliep suggests "madcap, exhausting, satisfying"; WQXR says "unrestrained by any hint of self-consciousness"; Alex Ross of the New Yorker called it "sprawling, engulfing, furiously unpredictable"; try it and see what adjectives occur to you! When Will Robin heard it, he opined that it "might be the best orchestral work that the 21st century has produced," and that statement "spurred a lively Twitter discussion" (to quote Ross), but many writers who made best-of-year lists felt it definitely belonged.

Giacomo Puccini: Jonas Kaufmann, tenor: Nessun Dorma: The Puccini Album - Jonas Kaufmann, tenor; Santa Cecilia Orchestra / Antonio Pappano; Sony Classical 88875092492 - Kaufmann made news when he used his Facebook page to urge us not to buy a Puccini recycling effort put out by his former record company (Decca) to compete with this new recital. But he needn't have worried, as this new disc has thrilled critics around the world. Personally, I just plain love Kaufmann's voice, which is duskier than some famous tenors - it has been described as "mahogany" - and that is indeed a subjective thing, but wow, what an artist!

Steve Reich: Music for 18 Musicians - Ensemble Signal; Brad Lubman, conductor (Harmonia Mundi HMU 907608). When the first recording of this masterpiece came out in 1976, says K. Robert Schwartz, it became "one of a handful of late-twentieth-century works that can rightly claim to have altered the course of Western music"; Ashley Capps calls it our Rite of Spring. But for 20 years no score was in print. In 1996, Reich published that score and recorded the work a second time, with richer sound and at a slightly slower tempo. Now, two decades later, we can choose from six recordings, but this new one is the one to get: it is the 18 that has it all. Here's a tribute website's superb overview of all the recordings; at it, David Bronczyk praises Music for 18 Musicians for its "organic rhythms ...it is 'about' the human breath and tapestries of slowly evolving pulses that mimic heartbeats, chants, footfalls .... a trance-inducing tone-poem, a sonic loom weaving fluid carpets of richly repetitive warps and woofs." He explains why this new recording is the finest yet, the most "perfect for getting lost (and enraptured) within..."
Franz Schubert: Piano Sonatas: D 894; D 960. 6 Moments musicaux, D 780. 4 Impromptus, D 935. Hungarian Melody in b, D 817. Allegretto in c, D 915 - Sir Andras Schiff, fortepiano (ECM 2425/26) - Some years ago, this Hungarian ex-pat recorded Schubert sonatas on a modern piano, and in his liner notes mocked the idea of playing them on an instrument of the sort Schubert used. (Those early "fortepianos" had frames made of wood rather than metal, leather rather than felt hammers, special pedals, and less-tense strings whose sounds decay faster. Also, the strings don't cross over each other as in a modern piano, so the low and high registers contrast more.) But a few years ago, Schiff heard and fell in love with an 1820 fortepiano, purchased it, and found that on it some of Schubert's piano writing made sense to him as never before. Listen, e.g., to his playing of the triplet passage near the end of the exposition of D. 960's first movement. His booklet note is nicely titled "Confessions of a Convert." The instrument seems to have inspired Schiff to play Schubert with extra poetry, which he conveys with subtleties of sound that ECM's engineers capture beautifully. Don't download lossy mp3s, by the way - you need to hear this one in excellent sound for it to work its magic.

Stephen Sondheim: Liasons – Re-Imagining Sondheim from the Piano. Anthony de Mare (piano) ECM 2470-72 The pianist commissioned 36 artists (the San Francisco Chronicle calls them a "starry who's-who of composers") to write new piano works inspired by Sondheim songs. The composers range in age from their 30s to their 70s, and write in a variety of styles and genres, from Steve Reich to Jake Heggie to Iowa native Michael Daugherty to jazz great Wynton Marsalis to sometimes-hip-hop-band-leading composer Daniel Bernard Roumain (this is the first album on this list to include African-American composers). In Sondheim shows I sense that the music perfectly expresses the words (which he writes) and serves the arc of the theatrical whole; yet his musical content is so rich that other composers can take them as the creative source of purely instrumental masterpieces. By the way, DeMare plays superbly.
Agustino Steffani: Niobe, Regina di Tebe - Boston Early Music Festival Orchestra led by Paul O'Dette and Stephen Stubbs / singers include Amanda Forsythe, Karina Gauvin, Philippe Jaroussky, et al. Erato 825646 343546) - Many Baroque composers had day jobs (usually playing music rather than writing it), but Steffani branched further. A priest, he served as a diplomat who worked with the pope and the king of England, knew Leibniz in Hanover, became president of London's Academy of Ancient Music, and just may have done a little spying on the side. He was among the most renowned composers of the generation before Handel and Bach, but is only being rediscovered now. This opera shows that forgotten works can be masterpieces, and it's beautifully performed. This studio recording on a major Warner-brand label also showcases the American early-music scene in its full glory.
Antonio Vivaldi: L'Estro Armonico -Rachel Podger, violin, Brecon Baroque Orchestra (Channel Classics CCS SA 36515) - That Vivaldi "wrote a great concerto 500 times" is one of music's finest quips, but this disc undermines its premise. The performers bring out subtleties you didn't know were there and make each concerto sound individual. But the playing never sounds mannered or affected - instead, the spontaneity fits Vivaldi's title for this set, which means "harmonic inspiration." Podger, a leading light of the Baroque violin, does much more than play solos: she handpicked the orchestra (which includes many of her students), and her conducting above all is what makes this release stand out in a banner year for Vivaldi releases.
_______________________________________
SILVER: Albums that received 6-7 votes each (listed in reverse alphabetical order)

Julia Wolfe: Anthracite Fields – Bang on a Can All-Stars, Choir of Trinity Wall Street (Cantaloupe Music CA21111 ) - How exactly would you write an oratorio about early-20th-century coal miners in Pennsylvania? American composer Julia Wolfe spent ten years perfecting her answer, and the evocative result won the Pulitzer Prize in 2015. By the way, there's an Iowa connection: one movement takes its text from a speech by John L. Lewis, who was born in Lucas County back when it was a coal-mining center. Here's NPR's interview with Wolfe, recorded when she won the Pulitzer but before the recording came out.
Bedrich Smetana: String Quartets – Pavel Haas Quartet (Supraphon SU 4172-2) I'll quote the wonderfully entertaining music writer Harriet Smith in Gramophone: "This is becoming a bit of a habit. The Pavel Haas Quartet record a disc. Critics swoon and reach for their superlatives box, usually hidden away on a top shelf to avoid overindulgence. Result? It ends up as Disc of the Month and a hot contender for a Gramophone Award.... The recording captures the quartet as if they were in your living room ... This is the kind of disc that makes record reviewing the best job in the world." While we won't find out who wins the Gramophone Award until summer 2016, this disc did make many best-of-year lists. I can't wait to hear it!
Grigory Sokolov, piano: The Salzburg Recital - (Deutsche Grammophon 4794342 (2CD) - A few years I posted a Facebook query: who really are the greatest living pianists? My friends in Europe kept mentioning a pianist who is little known in the US and has rarely performed here: GrigorySokolov. Born in the USSR in 1950, he won the Gold Medal in the Tchaikovsky Competition in 1966, but Cold War politics intervened, as did his uncompromising, contrarian artistic conscience: for decades he refused to enter a recording studio, sign with a label, or play a concerto. Well, now Deutsche Grammophon has an "exclusive" contract with him, and its first release is a two-disc recital recorded live in Salzburg in 2008. It makes you want to hear more. He includes two Mozart sonatas, the Chopin Preludes and two mazurkas, Scriabin, Rameau, and Bach, and really does sound different from any other pianist. He's both highly individual and probing, yet the result sounds not mannered but profound. I get what you were saying, Facebook friends!
Robert Schumann: Violin Concerto; Piano Trio. no.3 - Isabelle Faust, violin, Alexander Melnikov, piano, Jean-Guihen Queyras, cello; Freiburger Barockorchester/Pablo Heras-Casado (Harmonia mundi HMC 902196) Three of our foremost instrumentalists here exemplify a trend also seen in the Andras Schiff Schubert sonata set mentioned above, or the Rachel Barton Pine Vivaldi disc in the Bronze category below: they are undisputed masters of modern instruments who play equally well on period instruments. Here they use this approach, along with research on performance practice, to explore two neglected Schumann works.
Roomful of Teeth: Render (New Amsterdam, no album number) - The innovative vocal collective, says NPR, calls itself "a band, not a choir," and it won a Grammy in 2014 for its first album (and one of the compositions on it won the Pulitzer Prize for a member of the group, composer Caroline Shaw). This second disc includes new works by Wally Gunn, William Brittelle, Missy Mazzoli, Caleb Burhans, and Eric Dudley; my own favorite is the title track, written by the founder/director, Brad Wells - which was also one of NPR's "Favorite Songs of 2015." The entire album richly deserves its place on six best-of-year lists.
Arvo Pärt: Tintinnabuli - The Tallis Scholars / Peter Phillips (Gimell 049). Living under Soviet rule in Estonia in the 1960s, the composer Arvo Pärt abandoned officially sanctioned neoclassicism and experimented with forbidden serialism, but he was dissatisfied with that too; he stopped composing to explore early choral music. It helped him find a new musical path, but a more significant inspiration was his meditation on the overtones produced by a bell ringing. These tintinnabulations led him to develop a new way of writing music that is inward, pure, consonant, profoundly unhurried, and sometimes called "holy minimalism." In 2015, Pärt turned 80 and was the single most frequently performed living classical composer. Many fine albums paid tribute in 2015, but none was more radiant, beautiful and original than this disc from an unexpected source. The Tallis Scholars and Peter Philips are renowned for 42 years of singing Renaissance polyphony; given Pärt's original inspirations, perhaps we shouldn't be surprised that this group's effortlessly pure, ethereal singing proves ideal for conveying what he has to say.
Clockworking - Nordic Affect (Sono Luminus 70001)- Remember Anna Thorvaldsdottir and my speculation that Iceland is the per-capita champion for women composers? This album features Thorvaldsdottir and four others. Since Beethoven, classical music has been focused on the individual "genius," but this disc gives you a welcome sense of a scene, a group of artists. Another notable element: the split between serious classical music and popular culture is (just in time) breaking down internationally, but it never seems to have taken hold in Iceland - and one of these composers, María Huld Markan Sigfúsdóttir, is known mainly for her indie band anima, while two others worked with Bjork and Sigur Ros. One final split overcome by this disc is between period instruments and modern ones: Nordic Affect plays brand-new music on baroque instruments. It was one of MY favorite discs of the year, and once again Sono Luminus captures it in beautiful audiophile sound.
Edvard Grieg: Lyric Pieces - Stephen Hough, piano (Hyperion 68070) - A few years ago, New York Times music critic (and accomplished pianist) Anthony Tommasini argued that we are in a new golden age of the piano. We used to have to make tradeoffs, he said, between pianists with ultimate artistry and those with stunning technique; but now he hears numerous pianists who have both at once. Many of the pianists he mentioned are on this year's Mega-Meta-list, and a great example is an Englishman, Stephen Hough, who had several recordings on many best-of-year lists. Hough triumphed as a composer this year (his Missa Mirabilis is apparently a masterpiece) - but the disc that enchanted the most critics was this selection of Grieg Lyric Pieces, and it's easy to understand why. It's hard not to be enchanted by Hough's blend of technique and poetry, of originality and subtlety with naturalness, and by the Grieg pieces he selects.
Renee Fleming, soprano / Emerson String Quartet: Alban Berg, Lyric Suite; Egon Wellesz, Sonnets of Elizabeth Barrett Browning; and Eric Zeisl; Komm, Susser Tod - (Decca Classics 478 8399) A great American soprano and string quartet deliver evocative performances of masterpieces from interwar Vienna. Composer/violist Jonathan Blumhofer wrote, "Every once in a while you encounter a performance so well conceived, so finely executed, and so deeply expressive of the many faces of Viennese Modernism that the simple joy – yes, joy! – of hearing it all makes you forget the politics behind the period and /or the rigorous complexity of the compositional process. …Fleming and the Emersons own these songs."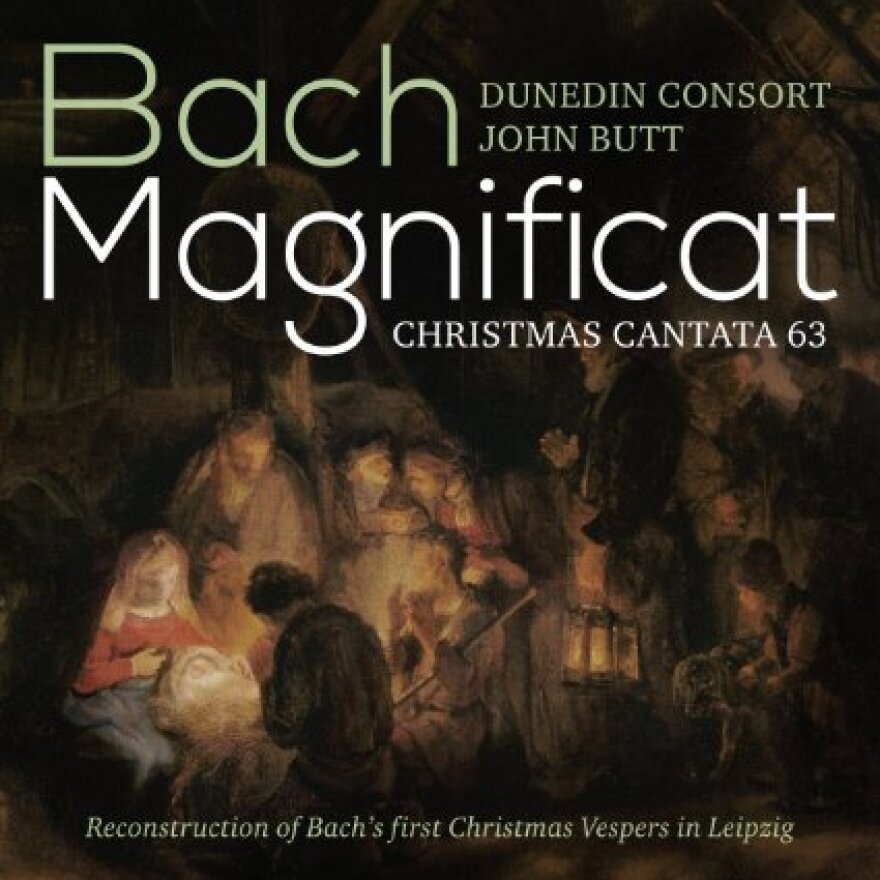 Johann Sebastian Bach : Magnificat, Cantata no. 63, organ works, and Giovanni Gabriell - – Dunedin Consort/ John Butt (Linn CKD 469) This is the single best place to start with if you want to hear a "liturgical reconstruction" of a Bach church service - his first Christmas in Leipzig, to be exact, with his choral and organ music interspersed with other things, including a motet by Giovanni Gabrielli. It is also the joyous-Bach-Christmas CD of the year. And the performances are so special that even if you already own many recordings of the Magnificat or the Cantata you should hear it. John Butt uses the first version of the Magnificat, in which Bach interpolated extra Christmas music to the familiar music, and also used more colorful instruments. The disc also includes some of the most glorious organ playing John Butt has so far committed to disc, and as usual, Linn's recorded sound glows with warmth and clarity.
Olafur Arnald and Alice Sarah Ott: The Chopin Project (Mercury 4811486) - He is an Icelandic composer and electronic musician (if you watched Broadchurch, that was his score); she is a notable young pianist (her mother is Japanese, her father German, and she grew up in Germany). He was moved by her recording of the Chopin waltzes in Deutsche Grammophon. This gave rise to a unique collaboration. She plays Chopin on old pianos found around Reykjavik, but not old as in "historically correct"; some were out-of-tune bar pianos. Nor were they necessarily recorded with the idea of concert-hall realism, because the other part of the project is his electronic explorations of the implications of Chopin in his own original works and that includes altering the piano sound sometimes. It's... like nothing else you heard all year, and succeeded so well that six writers put it on their lists. And what was I saying earlier about Iceland?
John Luther Adams: The Wind in High Places - JACK Quartet, Northwestern University Cello Ensemble (Cold Blue 41) - Adams won the Pulitzer Prize in 2014 for a mesmerizing symphonic work, Beyond Ocean, which also topped 2014's Mega-Meta-List. (The work also made headlines this year, because Taylor Swift heard it and was so moved that she donated $50,000 to the group that recorded it, the Seattle Symphony.) Meanwhile, Adams put forth two major new albums this year, and this one was chosen by six writers for their best-of-year lists. John von Rhein of the Chicago Tribune describes The Wind in High Places nicely: "Could any new music be so wonderfully sparse, so delicately poetic? I think not." And here's NPR's story on it. It is different from Beyond Ocean yet I found it equally mesmerizing.
John Adams: Absolute Jest and Grand Pianola Music - San Francisco Symphony, Orli Shaham and Marc-Andre Hamelin, pianos, St. Lawrence String Quartet, Synergy Vocal Ensemble / Michael Tilson Thomas (San Francisco Media ) - The Pulitzer-winning pioneer John Adams wrote these works 30 years apart, but both take their inspiration from Beethoven. See if you can resist the earlier of them, Grand Pianola Music, which joyfully plays with Beethoven's "Emperor" concerto - or Absolute Jest, a recent work that refers to (mostly) late Beethoven. Six best-of-year listmakers couldn't! It's worth noting that these virtuoso works were both recorded live in concert.
___________________________________
BRONZE - about 29 albums that made four or five "Best of 2015" lists - to be posted soon.... along with a complete list of sources used in my mega-meta-list