Opera 101: What's An Aria?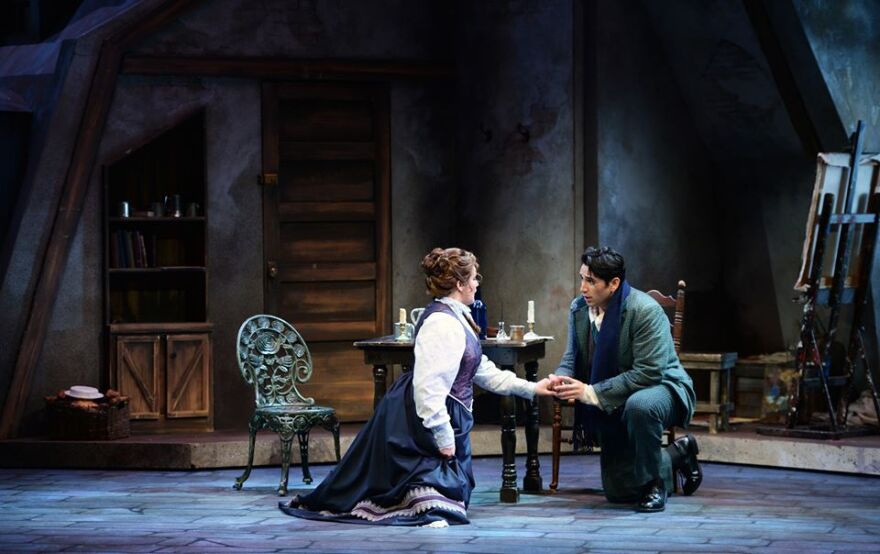 If you stuck at home looking for something new and different to explore, this weekend would be the perfect time to take the plunge into the opera world.
It's possible you may have heard a famous aria, which is part of an opera, and haven't even realized it. Arias can pop up when you least expect them to, in unusual places like commercials or movies.
For example, the aria "Nessun Dorma" from the opera "Turandot" is an intricate part of the "Mission: Impossible-Rogue Nation" film. And French composer Georges Bizet's "Habanera" makes a surprise appearance in the Pixar animated film, "Up."
--E6OE
What is an aria?
An aria is one of the building blocks of an opera.
The word is used to describe a piece for voice. That piece could be an instrumental accompaniment or be solo, and is usually part of a longer work, like an opera or an oratorio or a cantata.
Operas also include the chorus, created from a whole pack of singers, who often comment on or fill in the plot and make up the crowd. During an opera, there's also usually a full 45-plus-member orchestra, with a conductor, tucked either in front of the stage or underneath it, in a place called the orchestra pit.
Instead of speaking the opera story, through arias and choruses, singers sing the plot, accompanied by orchestral music. Typically the orchestra gets to shine in an opening overture for each act, which sometimes includes melodies that will be featured later in that act.
If you're ready for an audio adventure chock full of arias, check out IPR Classical's Arias in April series. IPR's opera series, kicking off this weekend, continues for the next 5 weekends showcasing different operas recorded in Iowa.
IPR's Arias in April features the Des Moines Metro Opera, the Iowa State University Opera Theatre, and a world-premiere performance by the Cedar Rapids Opera Theatre.
Saturday night April 4 at 8 p.m. and again on Sunday evening April 5 at 10 p.m., you can hear Italian composer Giacomo Puccini's celebrated La Bohème.
About La Boheme
La Bohème is a poignant and tragic tale of a young couple, who despite all odds, fall hopelessly in love. Friendship also plays an important role.
In IPR's Des Moines Metro Opera production, the beautiful seamstress Mimì is sung by soprano Julie Adams and the rugged poet Rodolfo is performed by tenor, Joshua Guerrero. IPR's broadcast taps into Julie and Joshua's take, as they illuminate their characters and the plot of Puccini's masterpiece opera, set on Christmas Eve in Paris's Latin Quarter.
It's easy to get hooked on opera, and especially the operas of Puccini! If you tune into Arias in April or choose to watch any of the free offerings from the Metropolitan Opera, let us know what you think and email us at artsnews at iowapublicradio.org.