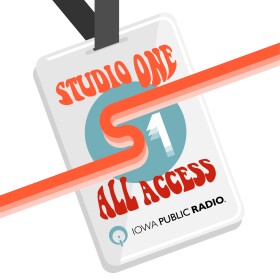 Saturdays from 1-4 p.m. and Sundays from 7-10 p.m. on IPR News/Studio One and Studio One online
Studio One All Access is a new music show produced by Iowa Public Radio Studio One. Discover new music from Iowa, Midwest and national artists, and keep an ear on the pulse of the music industry in Iowa. We go on the record with musicians, promoters and industry insiders, so you don't miss a beat.
Hear live sessions recorded in Iowa, meet artists through our Artist of the Month series, and stay in the know about what live shows are coming up in your area. Each week on the show, we'll take a deep dive and introduce you to two new artists or bands we think you'll love: one who's just put out a new album and one who's a true classic.
Follow us on YouTube and Instagram, and please send us music, pitch us ideas, and ask questions anytime by emailing studioone@iowapublicradio.org.
Every year, Des Moines artist Ramona Muse Lambert crafts a special activity book for the Hinterkids tent at Hinterland Music Festival.

These were our favorite sets from Hinterland 2022.

Iowa City-based Pictoria Vark played the Bravo Stage Friday at this year's 80/35 Music Festival. IPR Studio One's Cece Mitchell talked with the singer-songwriter before her set about her musical background, her new album and upcoming tour and her experiences at the festival.

We asked Iowa singer/songwriter Kat Darling, a music coach with Girls Rock! DSM, to write about why she makes time to volunteer.

IPR's Tony Dehner shares his experience at the final performance by one of eastern Iowa's favorite bands.

A new band, Mr. Softheart, is on our "must-see" list right now. You've met most of these band members before if you were following the glam-punk band Hex Girls.

Nestled in the pocket park by the Des Moines Public Library, the IPR Stage at 80/35 offered a place to rest, recharge and really listen.

Some of the best kept secrets shouldn't be kept secret. Here's who we had at the IPR stage at 80/35.

Iowa City-based musician Anthony Worden will be moving out of state soon. Iowa Public Radio Studio One asked him to reflect on his experience making music in the state.

Eleven Moons is the newest creative endeavor of veteran local songwriter V Ellsbury who has been a part of several area bands Lionessa, Witch Tiit, and Bitter Canyon chief among them.