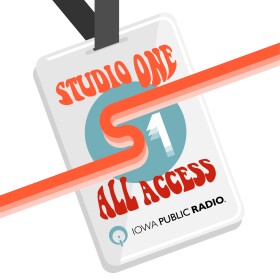 Saturdays from 1-4 p.m. and Sundays from 7-10 p.m. on IPR News/Studio One and Studio One online
Studio One All Access is a new music show produced by Iowa Public Radio Studio One. Discover new music from Iowa, Midwest and national artists, and keep an ear on the pulse of the music industry in Iowa. We go on the record with musicians, promoters and industry insiders, so you don't miss a beat.
Hear live sessions recorded in Iowa, meet artists through our Artist of the Month series, and stay in the know about what live shows are coming up in your area. Each week on the show, we'll take a deep dive and introduce you to two new artists or bands we think you'll love: one who's just put out a new album and one who's a true classic.
Follow us on YouTube and Instagram, and please send us music, pitch us ideas, and ask questions anytime by emailing studioone@iowapublicradio.org.
If you're looking for a deep listen, November Artist of the Month Joel Sires recommends Mickey Newbury's "Frisco Mabel Joy."

After some truly challenging months, Iowa City musician Anthony Worden has released a new album with his band, The Illiterati.

Iowa City-based singer-songwriter Jordan Sellergren is finally getting to play songs from her new album, well over a year after its release.

As we wrote when Riverview Music Fest announced the full lineup earlier this week, Andre Davis is a born performer.

Iowa City's Elly Hofmaier, who goes by Penny Peach, talks with IPR's Tony Dehner about her new EP, what to do when your day job is also disrupted by the pandemic, and more.

The Des Moines band The Finesse are gearing up for "Juneteenth: The Movement," a live concert presented by Iowa Public Radio, xBk and Iowa PBS, happening on June 19 from 7 to 9 p.m. The Finesse are also our Artist of the Month for June. Lead vocalist Madison Ray, who is co-hosting "Juneteenth: the Movement" spoke to IPR's Tony Dehner about all of that and more.