While Immigration Issues Mount At The Border, Iowa Is Not 'Full'
On a recent visit to the southern border in California, President Trump recently said there is no room in the U.S. for more migrants. But many employers in Iowa say that statement doesn't fit their reality. Instead, they are hoping immigration can provide workers to rebuild a shrinking labor force.
In Iowa, more people are retiring than joining the job market. The state is tied with New Hampshire, Vermont and North Dakota for the lowest unemployment rate in the country at 2.4 percent. For some businesses, finding enough workers is their greatest challenge.
"Above food costs, above competition, above the economy, above government regulation is need for more workforce," said Jessica Dunker, president of the Iowa Restaurant Association. "And so, no, we are not full."
Dunker said it's common for people who are new to the country to first find work in a restaurant because they may not be required to speak English.
"Immigrants are twice as likely as U.S. born workers to work in our industry," she said. "And so obviously they are a very important part of our workforce."
The number of migrants seeking asylum at the U.S.-Mexico border is putting a strain on the immigration system. In March, 103,492 people were apprehended or turned away at the southern border, the most in 12 years.
"It's a colossal surge and it's overwhelming our immigration system and we can't let that happen," Trump said at a meeting with border officials in Calexico, California. "The system is full. Can't take you anymore."
Bob Wersen, CEO of Interpower Corporation in Oskaloosa supports the idea of restricting the number of migrants coming into the U.S. He said he wants immigration policy to target the kind of skilled workers he has a harder time recruiting to his company, which manufactures power cords and electrical supplies.
"I do see very significant economic costs of letting in a million or more people a year with no skills and really very limited ability to contribute and make a living," Wersen said.
"Immigrants are twice as likely as U.S. born workers to work in our industry." - Jessica Dunker, Iowa Restaurant Association
But there is also a cost when there is a shortage of workers. Dunker said some restaurants are hesitant to open new locations because they're unsure whether they'll be able to hire enough staff. Economic growth slows down when there are too few workers, said Iowa State University economist David Swenson.
"Both legally and illegally, one way or the other, we've got to figure out a way to enhance the nation's labor force because we still have a wide range of jobs that still have to have human beings doing that work," Swenson said.
Across the U.S. there are 7.1 million open jobs, according to the Labor Department, but only 6.2 million unemployed people. Iowa Workforce Development reported in February that there were 40,000 unemployed Iowans, but the state job site currently lists 64,000 open positions.
There's no slack in the labor pool, Swenson said, particularly in rural areas where immigrants make up a large portion of the workers in key industries like agriculture.
"It's poultry operations, it's confined animal operations," he said. "Those are the categories that have grown to depend on foreign-born workers over the last ten years."
But the immigrants who could fill some open jobs are often caught between potential employers and stepped up immigration enforcement.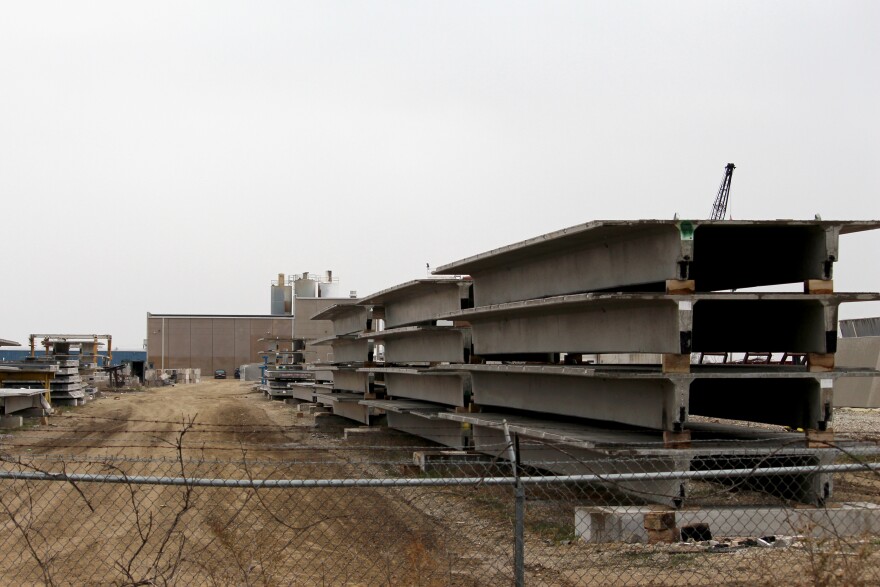 On May 9, 2018 a major immigration raid took place at the Midwest Precast Concrete plant in Mount Pleasant. A woman whose husband worked at the plant said it has been harder for some people to find work since then, even though there are plenty of jobs available. Her husband was deported after being detained in the raid and she's not yet a citizen so she asked not to use her name.
"You see a lot of jobs in Iowa and especially Mount Pleasant," she said through an interpreter. "But businesses don't want to hire anyone without a social security card."
Her husband was sent back to his native Honduras a few weeks ago, a place many migrants are trying to escape because of violence. While he was in custody she said he applied for asylum, but he was denied. Now she's worried because she hasn't been able to reach him since he first returned.
"Where he's from he was harassed by a criminal gang," she said. "But they don't care."
Without her husband's income she has struggled financially. An immigrant support group based at a local church is helping her family and others get by. She said it's frustrating to her because the political debate seems stuck on whether to build the wall instead of how to fix the labor shortage or how to treat immigrants already in the country.