What Happens After A Planned Parenthood Clinic Closes?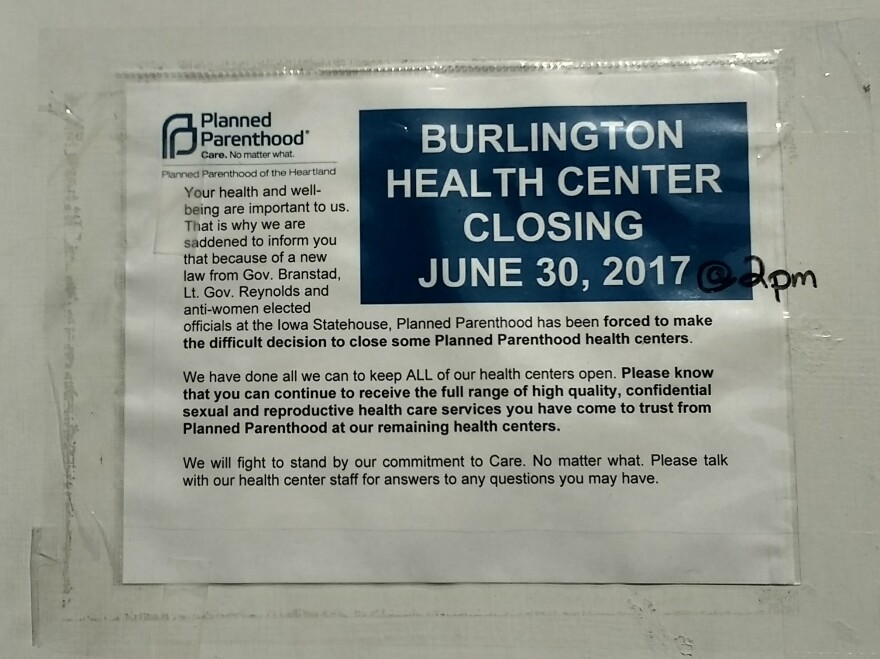 Recently, four Planned Parenthood clinics in Iowa ended operations. This comes after the Republican-controlled state legislature blocked federal funding to the organization as a way to restrict abortion access. But in addition to abortions, Planned Parenthood of the Heartland provides birth control, STD testing and cancer screenings.
To see if these closings have affected healthcare access in the state, I visited southeast Iowa, where two of the four clinics that recently closed were located.
For 31-year-old Phoebe McNeece of Burlington, the loss of Planned Parenthood in her community is devastating. McNeece is a sexual assault survivor. She says she feels the healthcare she's received from Planned Parenthood has been particularly supportive.
"They care about that aspect of my life as well," McNeece explains. "I'm not saying another doctor wouldn't but, it's, it's…They're very sensitive to that. In a way that I have not had other doctors be."
Like McNeece, many patients aren't happy they have to find new doctors. And because a large portion of Planned Parenthood's patients are low-income, the organization has warned these closings mean many women won't be able to find medical care.
Ron Kemp is the chief executive officer of Community Health Centers of Southeastern Iowa, which accepts Medicaid. He says that, so far, he's not seeing a big influx of patients.
"Providers are telling us, both at the Keokuk site and the West Burlington site, that they're seeing women come in that they probably have not seen before, who are looking for women's health services. Volume? I don't hear anyone say, 'Jeez this is volume I can't handle,'" says Kemp.
I made dozens of phone calls to health clinics that serve low-income patients in areas where a Planned Parenthood recently closed. What Kemp reports is pretty typical. But many providers add it's early and this could change.
Also, Kemp cautions that Planned Parenthood has a more relaxed healthcare delivery model where it's not uncommon for people to just drop in.
"Our structure tends to be more formal. We have scheduled visits with scheduled providers, and specialists in the office," he says. "It's a different environment. And [there's] probably some angst for how that will work for the individuals wanting to come in. Needing to come in."
Before Planned Parenthood left Burlington and Keokuk, Community Health clinics actually referred patients there for long-acting birth controls like IUDs and implants. Kemp's staff recently began providing these services. He says that creates added stress for staff, who aren't as experienced in these areas as Planned Parenthood providers.
"It's the pressure of having the skills so that they're comfortable," he explains. "[Also it's] having some of the more expensive methods available to them."
Jodi Tomlonovic is the executive director of the Family Planning Council of Iowa. The non-profit administers federal funding to family planning to clinics throughout the state. The state also subcontracts FPC to coordinate chlamydia and gonorrhea screening program.
She says that anytime a medical provider disappears anywhere in Iowa, especially outside the major population centers, it's "a bad thing". And while it will be several years before Iowa sees the full impact of these clinics closing, one of Tomlonovic's major concerns is that fewer people will get screened for STDs.
"When you screen, and particularly something like chlamydia, which can be pretty asymptomatic for a long time, you know, you catch more occurrences of the disease, of the infection," she says. "A lot of practices, they don't generally screen. They treat. They'll test if there's a symptom, or some reason. But they don't generally screen."
Amy McCoy is the public information officer for the Iowa Department of Human Services. She points out that all types of healthcare providers leave communities all the time.
"We've had providers with 100 people with very high needs close," says McCoy. "We have to find all types of services. You know, 24-hour supports for people. And so, it's part of what we do."
This doesn't matter Phoebe McNeece, who says she may continue going to Planned Parenthood. The closest clinic is now nearly two hours away. Because McNeece's car is in no shape to drive on the highway, that means she'll have to take the bus.
"It is a $30 ticket to do that," she says. "That's more than a tank of gas in my car. But it would probably be worth it to me. "